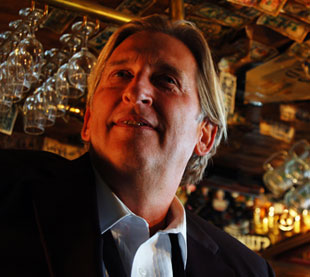 Mack Evans is an ethnomusicologist, folklorist, and songwriter from Florida, He especially is drawn to Piedmont, Bentonia, and Delta blues styles. He is also a veteran of the bar band, wedding outfit and blues nights on the restaurant circuit.
Currently, he is amazed to look up while performing to find that people seem to be actually listening to the words of the songs he's written, instead of yelling 'freebird' and dancing drunkenly on his amplifier. Sure, he misses the dance-band nights, but there's something good about people straining to hear quiet music, and the scrape of a shoe on a dirty floor or the squeak of a wooden stool can sound a lot like music.
Mack Evans' career in music started in 1967. He was inspired one of the greatest guitarists to ever come out of Jacksonville, Florida, who was Arthur ("Blind") Blake who had many hits in the thirties.
Blake is best remembered for his distinctive ragtime style on guitar. A tribute to Blake, of sorts, is one of Mack's earliest songs, 'Red Guitar' from the 'Lowdown' album. You hear a lot of players play in Blake's style, some who have come the closest are Ry Cooder, Jorma, Stephan Grossman, Woody Mann. "None of us can do it like Blake did it live. The best we can do is sound like the record." Mack says,"The thing about Blake was he hated stuff like Robert Johnson. He couldn't stand the sound of it, said it was 'country'."
"Blake didn't want to be 'rediscovered' like John Hurt or Gary Davis. He didn't even have copies of his own records. He played mostly with his thumbs. His left thumb was long enough to fret two or three of the low strings on a guitar, something that Hendrix would do later. And his right hand was as steady as a metronome. The thumb double-timed and palm-muted, sounding like another instrument, some weird ventriloquism that made his fingers sound like the disparate instruments in an army band, digital inter-independence not seen outside a Chet Atkins video, unheard except on old Merle Travis records, and all this on a noisy street-corner with no amplification but the wall of the department store to catch the puny sounds of guitar strings vibrating a glued-on top on an x-braced box, and the sound of feet shuffling by, bus air brakes releasing puffs of stink, a small pile of coins that the lead boy watches furtively, the sandwich in wax paper for the bluesman's lunch outside the lunchroom that he couldn't enter in 1967."
Mack Evans' career in music has spanned everything from performing in bar bands to a doctorate (a real one) in the study of the blues as American literature. His love for Americana and roots music as well as rockabilly and R&B styles come together on his two albums.