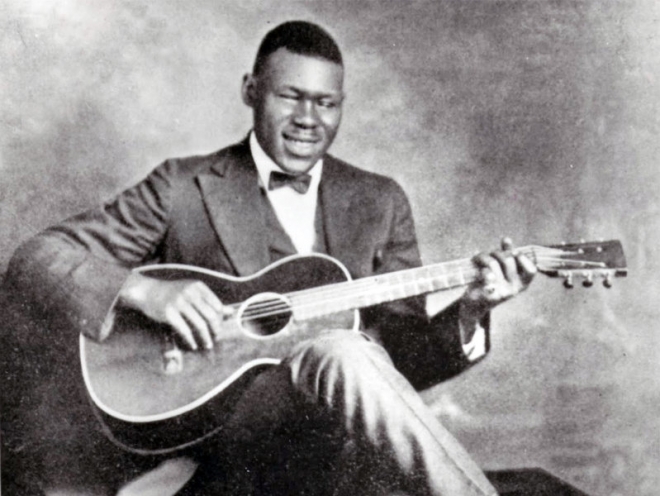 Today, I've been thinking about Blind Blake. Jacksonville's best-known bluesman, virtuoso ragtime guitarist, and Paramount recording star in the late Nineteen-Twenties. Arthur Blake, according to Jacksonville City Directories of the period, lived on Pearl Street in Jacksonville's Springfield section.
I've done a lot of digging into Blake's life, studying his unique guitar style and the myths that surround him. The rumors surrounding his death, the one existing photograph, the eighty 78's that remain of Blake's once-prosperous recording career, these are the only things we have to go on.
What do we know? First, there is the fact that Blake is enshrined in a ragtime guitar tradition that in some sense preceded the blues, and gives evidence to the fact that the blues was above all, 'popular music' and only later regarded as 'folk' music. The fact that Blake began a tradition of Ragtime Guitar based on Blake's own imitation of piano players; the ongoing effort to, if you will, make a guitar sound like a piano.
Second, he is, by virtue of his importance in the Grafton, Ilinois-based race-record industry, a first-generation bluesman.
Third, he is living disproof of the stereotypes that surround the bluesmen of the day; that they were primitivist, one-trick ponies, incapable of performing popular songs of the day, that they were not very accomplished guitarists who played in home-made tunings, etc.
Guitarists everywhere (notably Gary Davis, Ry Cooder, Jorma Kaukonen) record his songs and delve into his style. His guitar, more so than his vocals, are the center of the music. West Coast Blues is mostly instrumental, and Diddy-Wa-Diddy is perhaps his best-known vocal. In the guitar in these songs you can hear a steady thumb-bass, smartly struck but muted with the palm, and the ringing of the high strings as two distinct but equal voices. Like the two hands on a piano.
Blake was a sporty man, the opposite of the street musician stereotype. Yet his music is certainly music that calls attention to itself, and music loud and cheerful enough to compete with the noises of traffic on busy corners of downtown streets.
I believe Blake ended his years in Jacksonville, with his young lead boy, playing it loud in a park downtown, across from the Woolworth store. I wrote a song about it, Red Guitar, that's on my first album, Lowdown. Check it out. And check out Blake's recordings.
Mack